Company
Brembo is now a fully fledged multinational with operations in three continents and production facilities in twelve countries. It also has commercial branches in Sweden, France and Germany and markets its products in a remarkable seventy nations worldwide. The group has a workforce of around 7000 employees, approximately 10% of whom engineers and product specialists engaged in vital research and development activities. Each year, new human and manufacturing resources are taken on by the different Brembo branches around the world, especially in emerging and developing markets. The primary goal of Brembo's strategy of international expansion is to establish a presence in the countries where the group's main clients have production plants, so that its products may be supplied more rapidly and more efficiently.
Showcase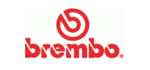 Revolution Slider Error: Slider with alias brembo not found.

Maybe you mean: 'homeslider' or 'avantgarde' or 'acschnitzer' or 'adv1' or 'bbs' or 'forgeline' or 'fuel' or 'hre' or 'lifted_offroad' or 'modulare' or 'prior-design-wheels' or 'pur' or 'startech' or 'strut' or 'techart' or 'vorsteiner' or 'vossen' or 'wald-aero' or 'xo_luxury' or 'zito' or 'dallasshowroom' or 'tesla' or 'hre_flowform' or 'premier' or 'brixton' or 'velos' or 'strasse' or 'mandrus' or 'redbourne' or 'victor' or 'cray' or 'coventry' or 'blackrhino' or 'tsw' or 'ccw' or 'rovos' or 'mansory' or '463industries'

Brembo currently offers (3) different brake upgrade systems.
The difference between the Brembo GT System, the Brembo GTR System and the new Brembo Auto Race Systems will be detailed below.  The GT Systems are designed for street use and extensive track use, while the GTR Systems are the ultimate in track/race brakes that are approved for street use and the Auto Race Systems are for track use only.
GT Systems, GTR Systems & Auto Racing Systems use the same Brembo Racing 2-Pc Disc Assemblies with the McLaren Anti-Rattle Float Hardware.
The Auto Racing Systems only use the 72 Vane heavy disc for greater thermal capacity, while this is an option for some GT or GTR Systems.
Only the Auto Racing Systems use the Type V Slotted Wide Annulus Endurance Race Disc
GT Systems, GTR Systems  & Club Racing Systems use Goodridge Braided Stainless Steel Lines and aerospace grade materials for the Bells, Brackets and Hardware.



Please Contact For Applications and More Information

Cast Aluminum Calipers

Quick to Mass Produce
Easy to Machine during fabrication
Exceeds material stress requirements for street use

High Quality Painted finish

Quick to Mass Produce
Unlimited color options
Easy to correct or repair

Dust Boots and High Pressure Seals
TUV Approved for Street Use

European Agency Corrosion Tests to Failure before approval for street use

Street, Track and mild Race Use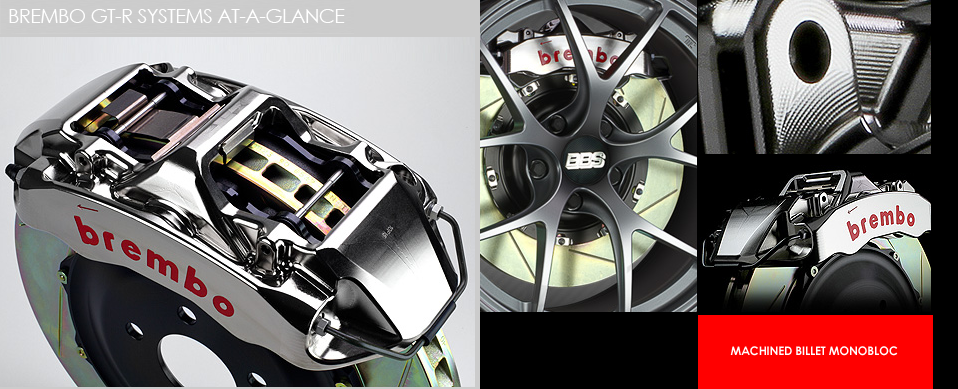 Please Contact For Applications and More Information

Billet Aluminum Monobloc Calipers

Individual Calipers are machined from billet aluminum > > Slow to Mass Produce
Tougher material means slower to machine and fabricate
Stronger material for greater stresses in race environment

Nickel Plated for greater Thermal Protection

Costly and slow finishing process
Expensive materials used in finishing process
Only Nickel Plate finish available

Stainless Steel Piston Inserts for greater Thermal Protection

Slow & Exact machining required to produce
Expensive material to machine
Extra components not found in GT System Calipers

Dual Pressure Seals

Slow & Exact machining required to produce groove deep in caliper body

TUV Approved for Street Use

European Agency Corrosion Tests to Failure before approval for street use

Street, Track and Full Race Use


Please Contact For Applications and More Information

Cast Aluminum Calipers

Quick to Mass Produce
Easy to Machine during fabrication
Exceeds material stress requirements for street use

Hard Anodized for greater Toughness

Easy finishing process
Finished Look not an issue or important
Only Hard Anodized finish available

Stainless Steel Piston Inserts for greater Thermal Protection

Slow & Exact machining required to produce
Expensive material to machine
Extra components not found in GT System Calipers

Single Pressure Seals
Track and Full Race Use Only

Brembo Upgrade with Slotted Rotors