AC Schnitzer AC1 Wheel Generation
World Premiere The New AC Schnitzer AC1 Wheel Generation
World premiere in Switzerland:
AC1 Wheels Generation from Schnitzer rolls up to the start
A new wheel generation is celebrating its world premiere at the Geneva Motor Show: the AC Schnitzer AC1 rims.
Not only is the name new, but also the design – both point to a generational shift in the wheel segment at AC Schnitzer. Although the AC1 rims are a new design, in one important aspect they pay tribute to their heritage: they too will certainly become a design classic for BMW, MINI and Land Rover vehicles.
With the new AC1 rims, AC Schnitzer has reinterpreted the classic twin-spoke design. The result is a sporting hybrid look. In a sophisticated style, triangle tips taper towards the rim edge and widen towards the centre, separated by five trapezoids. These draw the eye directly to the unique classic element of the AC1 rim: the pentagonal hub cap with AC Schnitzer logo.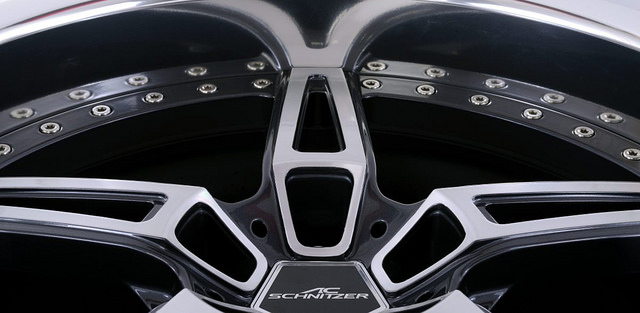 Despite this multiplicity of styling elements, the design appears clean and masculine thanks to the very straight lines. The interplay of all these elements gives the AC1 wheel solidity and size. Especially in motion, the BiColor finish creates a strongly alternating effect, turning almost every current BMW, MINI or Land Rover model into a very special vehicle – whether in 18, 19, 20, 21, 22 or even 23 inch.
AC1 Wheels in 18, 19, 20 and 22 inch – alloy rims in innovative design
· Weight-optimized cast alloy rims
· Produced in the low-pressure casting process with subsequent heat treatment
· Open 5-spoke design in BiColor Anthracite or matt Anthracite which gives a clear view of the axle and brakes
· Embossed original AC Schnitzer logo
· The wheel is corrosion-protected with a high quality clear lacquer, guaranteeing a long life
· The basic rim of the AC1 wheel family, available in sizes
· 7.5J x 18" offset 48 | 8.5J x 18" offset 43
· 8.5J x 19" offset 43 | 9.5J x 19" offset 50
· 8.5J x 20" offset 43 | 10.0J x 20" offset 50
· 10.0J x 22" offset 36.5 | 11.5J x 22" offset 30
For BMW: all current models except 2-series Active Tourer (F45)
For MINI: F55, F56, R60 (Countryman), R61 (Paceman)
For Land Rover: Range Rover Sport
AC1 Forged Racing Alloys in 21, 22 and 23 inch – multipiece rims
· Three-piece with visible bolting
· High load capacity thanks to special construction
· Outer bed: forged, milled, rolled and clear lacquered
· Inner star: forged and milled
· Inner bed: aluminium block milled, rolled and anodized
· Weight-optimized racing rims with machined original AC Schnitzer logo
· Weight reduced thanks to forging, compared with conventional cast wheels
· Reduction in unsprung mass and gyroscopic forces on the car. Improved driving dynamics
· Open 5-spoke design in BiColor Anthracite, giving a clear view of the axle and brakes
· Corrosion-protected with high quality clear lacquer, guaranteeing a long life
· Technical development stage of AC1 rims, available in sizes
9.0J x 21" offset 42
10.0J x 21" offset 42
10.0J x 22" offset 36.5
11.5J x 22" offset 30
11.0J x 23" offset 40
For BMW: 4-series, 5-series, 6-series, 7-series, X3, X4, X5, X6 (current models in each case)
For Land Rover: Range Rover Sport
AC1 Forged Alloys in 20 inch – one-piece alloy wheels
Weight reduction of approx. 30 % thanks to forging, compared with conventional cast wheels
· Perceptible reduction in unsprung mass and gyroscopic forces on the car
· Significantly improved driving dynamics
· Machined "Forged" logo on the front
· Machined original AC Schnitzer logo
· Open 5-spoke design in BiColor Anthracite or matt Anthracite, giving a clear view of the axle and brakes
· Corrosion-protected with high quality clear lacquer, guaranteeing a long life
· Evolutionary development step of the AC1 wheel, available in sizes
· 9.0J x 20" offset 25 Weight: approx. 10.0 kg | 10.0J x 20" offset 33 Weight: approx. 10.5 kg
For BMW: M3 E9x,M3 F80,M4 F82-F83, 5-series F1x, M5 F10, 6-series F06, F12, F13, M6 F12-F13
Gallery